Project Groups
Interrogating Group
This group runs primarily for semi-professional artists who have either been formally trained or otherwise gained solid experience of exhibiting, participating in, or leading courses.
The group meets six times a year to:
• Undertake critical reviews of work in progress and encourage skill swaps and knowledge sharing
• Introduce and consider different aspects of working as an artist- e.g.:
- exhibitions
- running workshops
- framing
- working in series / themes
- writing
• Form an annual collective process based exhibition or other special project - e.g artist's books
• Make studio visits
• Encourage informal collaborations between members of the group with a common interest
• With help - share work via the DVA website and other media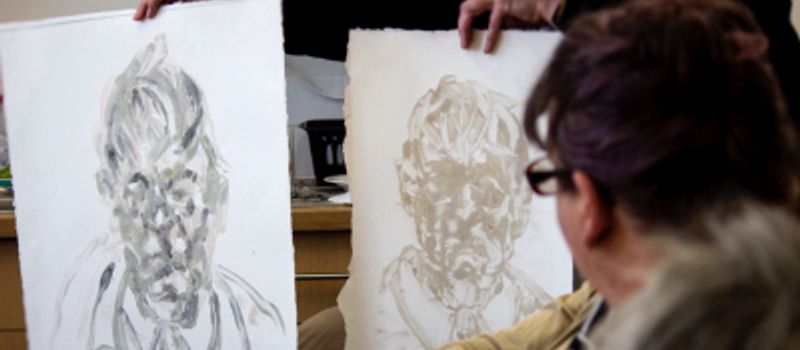 The Salon
A selected fine art membership group bringing together established and recent graduate fine artists.
Meeting around six times a year, much along the lines of a traditional 'sketch book club', preferably at artists' studios - maybe the odd pub - the primary purposes of the group will be to:
encourage critical debate
share creative knowledge and experiences
and perhaps prompt collaborations.
This years focus includes realizing an exciting publishing and exhibition project.
We expect Dorset's professional galleries to be closely associated with and influential to The Salon. Our aims should encompass taking project ideas and outcomes beyond Dorset.
Applications are invited by CV, accompanying letter and a selection of images – see criteria under Projects on the new DVA website. The letter should include reference to why you think this opportunity might be for you and what you think you can bring to the group.
Making Dorset
Making Dorset is a relatively new initiative building on the publication 'Fifty Dorset Makers'. A new Making Dorset website is ready to launch and will go live by 01 October.
Making Dorset is formed of 50 selected members with an expectation that members will commit to a 2 - preferably 3 - year involvement. The grouping is open to new members – a waiting list may apply. Please see the criteria on the new Dorset Visual Arts Website; www.dorsetvisualarts.org
Making Dorset is currently in a research and development phase involving all Making Dorset Members. Over the next 18 months, shaped and refined by members and supported by grants**, this phase aims to realise:
• a directory of opportunities
• a skill and knowledge bank
• a curated exhibition
• a special 7-10 day trail with special events culminating in:
• a 2/3 day Makers Conference attracting regional / national interest
• marketing support - social media etc.
• sub group collaborations leading to representation at fairs and in exhibitions
** Grants: 3 applications are currently in-hand - outcomes known by late November / early December.